We design and manufacture the worlds best backhoe and excavator frost and rock rippers and ripping buckets.
Featuring the:
Multi-Ripper
, Hi-Production Multi-Ripper,
Multi-Ripper Bucket
,
Hi-Cap Multi-Ripper Bucket
,

Talon Bucket
,
Multi-DigNRip Bucket
,
V-Raptor Bucket
,

Al
ignAttach
,

Stumpiranha

, Wolverine Ripper
Wain-Roy and the History of the Backhoe book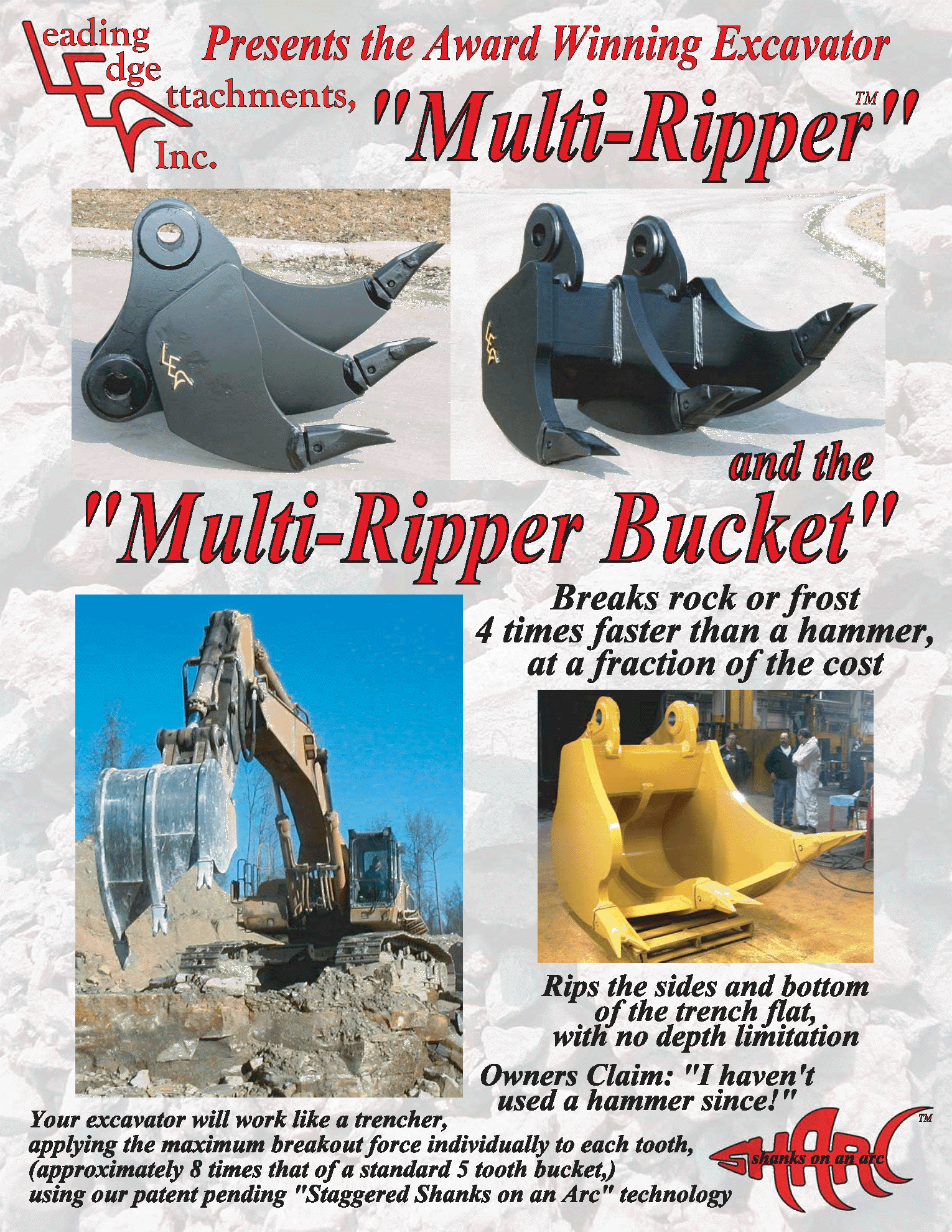 Breaks rock and frost 4 times faster than a hammer,
at a fraction of the cost.
Rips the sides and bottom of the trench flat
with no depth limitation.
email
sales@leattach.com
for more information
or call us to discuss your special application 508-829-4855
SHARC™ Technology:
All of the Multi-Ripper Products utilize the patent pending SharcTM Technology which results in the unit funcioning similarly to that of a trencher except they use the machine rolling action to rip. The staggered shanks fracture the substrate in sequential order. No two shank tips align with each other, so that the maximum breakout force is applied sequentially to each tip. The distance from the boom pivot to the tooth tips is also considerably shorter than the standard bucket for the machine. The shorter distance actually multiplies the tip force. The castle top shape groves cut by the forward tip facilitates the fracturing process of the next tip. The rolling of the Multi-Ripper products, by extending the tool cylinder, always provides the full multiplied breakout force individually on each tip so that the substrate is ripped out by each individual tip lifting action. The result is a relatively flat trench bottom due to the fact that the tooth tips all lie on a constant radius with a center of rotation that is close to tool pivot. The multiple teeth also push the loosened material out of the way to expose un-ripped material. The Multi-Ripper Products are the most productive attachments available by comparison!
You benefit because....
Breaks rock up to 4 times faster than a hammer!
Rips frost 10 times faster than a single pointed ripper!
Exceeds all other designs of frost, rock or ripper buckets on the market!
Is the undisputed best combination ripper and bucket on the market!
Rips all depthes of frost or fragmented rock!
Rips trench walls flat and square!

It works because....

Staggered shanks on an arc hit one at a time.
Maximum breakout force is applied sequentially to each tooth!
Tooth force is approximately 8 times that of a standard 5 tooth bucket!
Shanks on a constant tip radius leave a flat trench bottom!
It is an engineering breakthrough!


Believe it because....

It won Construction Equipment magazine's "Top 100 Products of the Year"!
It won Construction Site News magazine's "Top 25 Products of the Year"!
There are patents pending in the United States, Canada, New Zealand, and Australia!
Owners claim: "this is the best attachment I've ever bought."


Also....

Available to fit any TL backhoe or excavator above 6,000 pounds.
Constructed of tough HARDOX 400 steel.
Standard replacement teeth.
Available to fit any Wain-Roy, C&P or Cat Pin-Lock style coupler.
Other Multi-Ripper products are currently being developed.

(MR Rake, MR Skeleton Bucket, MR Pavement Removal Bucket, MR Cemetery Bucket, etc.)


Endorsements:

"it works awesome!...it's the real deal!" "simply excellent...well done gentlemen!"

Jerry Bailey, Youngstown, OH
Robert H. Thiele, Roanoke, TX
"best attachment that I've ever bought!" "it rips rock like crazy!"
Fernando Sosa, Panama
Bob Longo, Puerto Rico
"
it is a Godsend to me a real blessing!... "Ive now used it on stumps, frost and ledge...
It peals through caliche like butter!" Your product is absolutely great!"
Scott Lambdin, Phoenix, AZ Christian L. Buehner, Damariscotta, ME
"The Multi-Ripper has helped "it works better on frost than
my business a lot!" anything that I have seen!"
Russ Witt, Heber, UT
Ed Csenge, Keene, NH


Call direct: 508-829-4855 Fax: 508-829-4822 email: sales@leattach.com
Website: www.digrock.com

---
Leading Edge Attachments, Inc.
®
©
Copyright 2002-2018; Leading Edge Attachments, Inc.
®
All Rights Reserved
Revised: December 29th, 2018